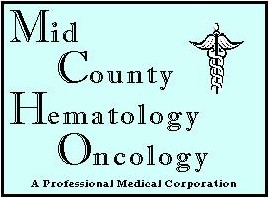 1213 E. Ocean Ave., Suite 102, Lompoc, CA 93436
(805) 735-1155 Fax (805) 735-1133
Business Office (805) 735-0030
Patients of Mid-County Hematology & Oncology are under the care of:
Donna L. Walker, M.D.

Dr. Walker's patients appreciate the kind and caring atmosphere at MCHO and the professional and compassionate manner in which their individualized treatment program is administered. Dr. Walker's current board certification in Oncology, her work in Hematology and Internal Medicine, and her interests in alternative approaches gives her a unique perspective in crafting innovative and specialized treatment programs for each patient. Dr. Walker is dedicated to the best possible outcome as well as quality of life for her patients.
The staff at MCHO is professionally trained and is well experienced in each of their respective disciplines. All are dedicated to supporting the prescribed medical treatments as well as the personal comfort and well being of all our patients.
Our gleaming new offices and treatment center feature state-of-the-art diagnostic and treatment equipment. It is the newest in the region. Every effort has been made to insure patient comfort and safety.
Many of our patients find helpful answers to common questions in our Frequently Asked Questions section: